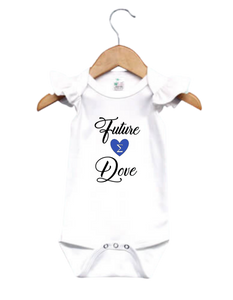 Not only is this a perfect way for your baby girl to represent her favorite frat, it also honors the college-educated women who have organized to assist the fraternity as well. With the constitutional bond of the Sigmas and Zetas, this onesie is also perfect for baby Zetas as well! White ninesie with three-snap closure, adorable flutter sleeves, and the glistening blue heart in glitter. 
65/35% Poly-Cotton 

White

Flutter sleeves

Snap closure
Expandable shoulders
Machine Wash
**This mock-up photo is not an exact representation of how the apparel will look upon arrival. This is because it doesn't account for the heat transfer vinyl's exact textures (i.e. glitter) and/or colors. 
[Coming Soon!] Our model photos and customer photos more accurately depict how the apparel will look upon arrival.**