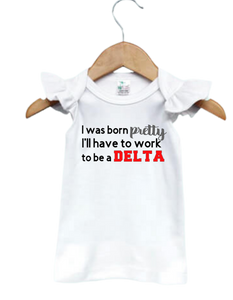 Every Baby Niner girl is born pretty...the baby Deltas in training want to remind the world that they'll have to put work in to join the sisterhood one day. Now, that's what we call a flex!  White Nine-Tee shirt (9T) with adorable flutter sleeves and the glistening words "pretty" and "DELTA" in GLITTER! 

65/35% Poly-Cotton Blend

White

Flutter Sleeves

Machine Wash
**This mock-up photo is not an exact representation of how the apparel will look upon arrival. This is because it doesn't account for the heat transfer vinyl's exact textures (i.e. glitter) and/or colors. 
[Coming Soon!] Our model photos and customer photos more accurately depict how the apparel will look upon arrival.**