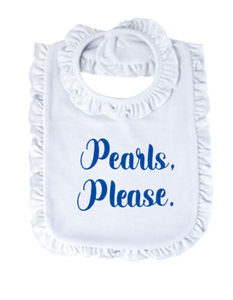 Ruffles....glitter....The only thing missing is her pearls! 
65% Polyester / 35% Cotton – Interlock Knit, 6.5 oz.
2-Ply/2-Layer
Ruffle trim bib
Velcro closure
Sweatshop-free
**This mock-up photo is not an exact representation of how the apparel will look upon arrival. This is because it doesn't account for the heat transfer vinyl's exact textures (i.e. glitter) and/or colors. 
[Coming Soon!] Our model photos and customer photos more accurately depict how the apparel will look upon arrival.**