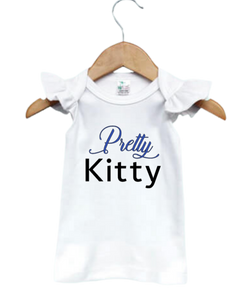 How adorable will your pretty Baby Niner be flexing in her "Pretty Kitty" Nine-Tee shirt (9T)? White 9T with adorable flutter sleeves and the word pretty in glistening blue GLITTER.  

65/35% Poly-Cotton Blend

White

Flutter Sleeves

Machine Wash
**This mock-up photo is not an exact representation of how the apparel will look upon arrival. This is because it doesn't account for the heat transfer vinyl's exact textures (i.e. glitter) and/or colors. 
[Coming Soon!] Our model photos and customer photos more accurately depict how the apparel will look upon arrival.**